INDIA'S CONSTITUTION
---
To Elect worthy Guardians (Legislators)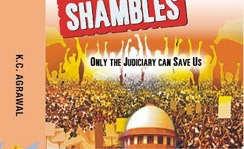 1.To conduct fair and just elections
(Banish all kinds of allurement to the voters and the hate speeches).
Sir, Elections every five years at State or Union levels are a measure of performance and accountability of our Legislators and the elected Executive. Election are a sacred process to set up governments to work for the people and accomplish the 'socio-economic' incumbencies of the Constitution. According to me it is the lone purpose and basic responsibility of our governments. Elections must necessarily be performance-based. Our present kind of elections negates the basic element of accountability due to the trickery of allurement and policy of appeasement practiced by political parties and candidates. Also nagging and denouncing (hate speeches) the rival parties and candidates [Section 6.5 (III)]. All this mask their own performance and worthiness and shift focus from constructive work to reliefs, dole-outs, freebies and allurements of quotas and reservations and nagging and accusing the opposite parties. Sir, these practices germinate into 'no accountability' and 'no responsibility' and encourage dubious and incapable candidates enter the politics gravely eroding the purpose of setting up of governments.
When nagging and accusing each other becomes a political pastime, "incumbencies" walk out of the door and national interests become inconsequential
ABUSE OF PARLIAMENT
(Imprudent and insensitive guardians)



Sir, conducting elections is a matter of the Constitution and its implementation falls within the purview of the learned Judiciary. Time comes to change our archaic 'due procedure' and make elections purposeful and effective. The learned Judiciary may direct the Law Commission, National Human Rights Commission (NHRC) and the Election Commission (EC) to define the basic disciplines necessary for the contesting parties and candidates commensurate with the basic objectives of the Constitution. The election disciplines must establish a mechanism to make elections purposeful and the governments so formed sensitive to human sufferings and capable to accomplishing the basic objectives of the Constitution vis - a - vis purpose of our struggle for freedom. Election Commission taking opinion from the Legislature in matters of freebies (Jan 2014), dilutes the sanctity and purpose of elections.
Sir, it must be mandatory for all political parties and candidates to state their active developmental plans (verbally and through their manifestoes) for;
i)Creating means and avenues for self determination of the people to alleviating their miseries naturally, and
ii)Their road maps to accomplishing the Socio-economic incumbencies of the Constitution in true letter and spirit.
manifesto
- A manifesto can-not be a document of lures but a charter of promised actions and deeds to fulfil the socio-economic incumbencies of the Constitution (Article 38).
- Subsidies and dole-outs are defiance of Constitution and no party can do it.
- Elections without purpose are meaningless.
Other than this there is no purpose of a manifesto verbal or written. Sir, it is essential for a party or candidate to understand the responsibilities of a Legislature. Presently no one likes to talk about the 'socio-economic' objectives of the Constitution as if they are non-existent or have no relevance. In reality our Constitution is forgotten and the time comes to implement the same.
2. To ensure elections by majority of votes
The present lacunae in our election process are discussed in Section 6.4.1 III (ii). Sir, the present lure of Politics with little educational attainments and 'no accountability' and 'no responsibility' attract many contestants from a constituency. As a result number of political parties and contestants is getting larger by the day and one may get elected by securing just 10-20% votes of their Constituency as documented by the Election Commission. This surely is not a mandate of the people and therefore not legal. A candidate must secure at least 51% votes of his constituency irrespective of the number of contestants, or votes polled to have a legal mandate and make him eligible to make statutes and laws.
Sir, I pray the learned Judiciary to direct the Election Commission to adapt a two round system as adopted by some countries. It shall also help in weeding out the dubious characters entering the Politics.
TOMORROW's DEVELOPMENT AND PROSPERITY THROUGH WORTHY GUARDIANS
BY MAKING ELECTIONS PURPOSEFUL


prev
next